Pablo Loayza
Pablo Loayza is the developer of the naturalbuildingtocode.com,  a Director of the Natural Living Design & Build team, and Founder of the "Natural Living School."  He was introduced to natural building in 2010, when he studied at the Cob Cottage Company (CCC) with Ianto Evans and Linda Smily, as well as with other amazing natural builders that teach at CCC.  Coming from a background in construction and finance, he was motivated to find a way to bring natural building into the main stream.  He believed that if people knew how unhealthy their dwellings were and knew that natural building to code was a possibility, that people would choose natural building over conventional construction.  So he dove deep into researching all the possible ways to use the current building codes with natural materials.  What came from his research and development is now changing the way buildings are constructed.  The simplest explanation is that his building systems are based on two main principles.  One, use what is available in the area where the building is constructed.  Two, build it in the way that uses the least amount of resources and produces the least amount of waste.  Working with the county and engineers, his building systems are easy to construct, and use a lot of the same building techniques as conventional building, to help lower cost and speed up the building process.  
Amanda Fischer
Amanda Fischer is a Director of the Natural Living Design & Build Team, Director of the Natural Living School and organizer of Muddy Hands.  She is a designer, teacher, builder, project manager, adventurer, traveler and avid learner of all things interesting!  Amanda has been designing, building and teaching conscious and sustainable structures for over 6 years. Prior to this, she attended university and holds a Masters of Architecture with a focus on Interior Architecture & Design and a minor in Business.  She taught as a Professor in universities on the east coast prior to moving to Northern California where she obtained a certification as a Sustainable Building Advisor in San Francisco. This certification guides her in promoting sustainability through all stages of our built environments.  It also guided her to passionately dive into the Natural Building industry which she has been specifically focused on for the last years. Upon diving into the natural building realm, she has had the pleasure of learning from and co-instructing with Michael Smith author of the Hand Sculpted House.  She volunteered her time learning as much as she could during the beginning stages of her journey and has ambitiously embarked on teaching and building with these amazing natural building techniques. Amanda has worked on structures throughout Northern California and Thailand; teaching these skills to all enthusiasts that come her way.  
Amanda's passion focuses on the art of empowerment through the use of natural and renewable materials to create spaces. As an ever evolving teacher, builder and designer Amanda focuses on creating built environments that inspire deeper relationships with the land, habitat and home by utilizing natural and locally sourced materials to create spirit filled spaces! Education and community are extremely important to her; she continues to teach workshops in California and beyond spreading the love and knowledge that reconnects us and home.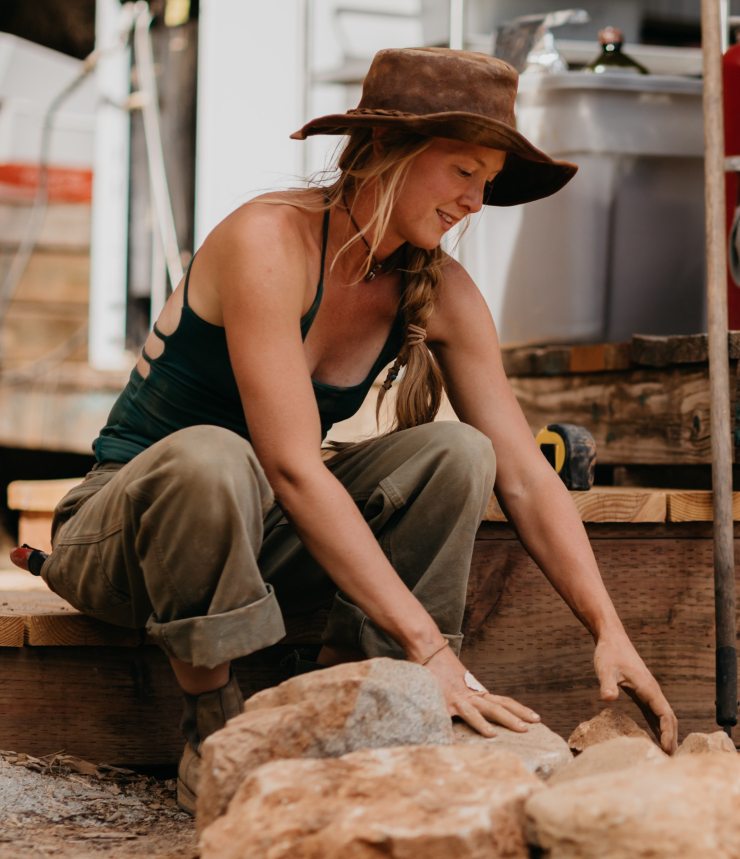 Myles Danforth
Myles is a Director of the Natural Living Design & Build team and Founder of Reclamations Natural Building Inc. Myles holds his general contractor's license. He is a designer and builder working with salvaged and reclaimed materials, restorations and specializes in finishes. Myles is inspired by intentional space that deepens our connection with nature. With a curiosity for exploring beyond the conventional, Myles has over a decade of building experience—from treehouse forts as an Eagle Scout to teaching cob workshops abroad. He received a bachelor's of science degree at Humboldt State University in Sustainable Communities with a Minor in Appropriate Technology. Myles was a co-director of CCAT, a natural demonstration home for appropriate technology. He has worked with non-profits in Guatemala and Nicaragua, assisted in building a school from reclaimed and recycled materials, and assisted the Earthship Biotechture Group in a humanitarian building project.